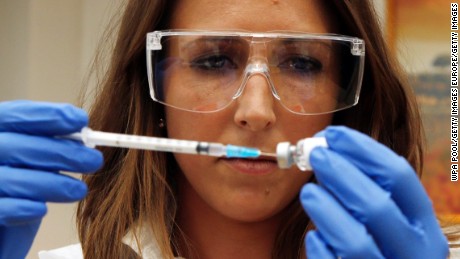 The Ebola outbreak in Congo risks running out of control with the first suspected case reported in a city of over 1 million.
The WHO is set to convene an Emergency Committee meeting on Friday to consider the worldwide risks.
The fresh outbreak, publicly declared on May 8 with 23 deaths so far, had previously been reported in a rural part of Equateur Province in the vast country's northwest. Until Thursday, the more than 40 suspected or confirmed cases were all located in the area around Bikoro, close to the Congo River, and around 150 kilometres (about 95 miles) from the provincial capital Mbandaka, which is a busy port city.
Worldwide teams are seeking to isolate and treat anyone who may have been exposed to the virus.
More news: Microsoft Launches May Xbox One Update Today, Features Discord Support
The virus is endemic to DRC, and causes an acute, serious illness, which is often fatal if untreated. It can spread rapidly through contact with small amounts of bodily fluid, and its early flu-like symptoms are not always obvious.
The WHO said the risk of the disease spreading was "high" and announced it was preparing for the "worst case scenario". This is a major development in the outbreak.
Another 21 people have been, or continue to be, held in quarantine because they are suspected to have contracted the virus, Ilunga added, though medical tests have yet to confirm Ebola infection. "The potential for an explosive increase in cases is now there".
The outbreak in West Africa that started in 2014 reached epidemic proportions and was the worst ever recorded, infecting more than 28,000 and killing more than 11,000. Mbandaka is the provincial capital.
More news: Carrick looking forward to coaching under tutelage of Jose Mourinho
MSF Emergency teams are already on site and have set up an isolation zone in Mbandaka's main hospital (5 beds) and one in Bikoro hospital (10 beds). On average, about 50% of people who become ill with Ebola die. Since then, an experimental vaccine has been developed, and 4,000 doses have arrived in the Congo, with thousands more to follow.
"This is a significant development because it's harder to control an outbreak in an urban setting because there are many more prospects for contact than in a rural area", World Health Organization spokesman Tarik Jasarevic told Al Jazeera. The vaccine, produced by Merck, is not yet licensed, but the World Health Organization has cleared it for "compassionate use". It needs to be stored at a temperature of between -60 and -80 C. Electricity supplies in Congo are unreliable. "We are working closely with the Ministry of Health and the other organisations in the field to implement a coordinated, tailored and rapid response to stop the spread of Ebola".
Many of these people were in remote areas, Salama said. There were no cases in the Congo during that outbreak. Humans can also be exposed to the virus, for example, by butchering infected animals. These can include chimpanzees, gorillas, monkeys, antelope and porcupines.
WHO-partner, MSF, has also deployed its teams and is working with United Nations agencies to strengthen health capacity to treat Ebola patients.
More news: Senate confirms Gina Haspel to lead Central Intelligence Agency , first woman to hold post