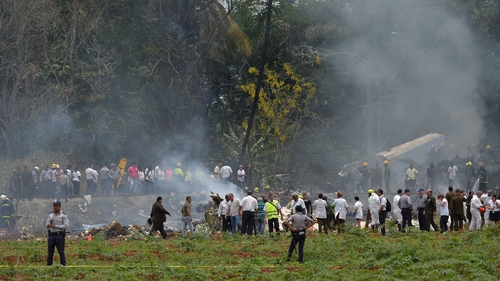 A Boeing 737 airliner crashed shortly after taking off from Havana's Jose Marti International Airport on Friday, killing more than 100 people, according to Cuban state media.
The plane that crashed, a Boeing 737, was barred from Guyanese airspace past year after authorities discovered that its crew had been allowing unsafe overloading of luggage on flights to Cuba, Guyanese Civil Aviation Director Capt. Egbert Field said.
The plane was carrying a total of 113 people, including six Mexican crew members, on a domestic Cubana airlines flight between the capital and the eastern city of Holguin.
Carlos Alberto Martinez, director of Havana's Calixto Garcia Hospital where the survivors were being treated, said doctors are always hopeful that their patients will recover, but he acknowledged that the three Cuban women were in extremely grave condition.
The Namibian deputy prime minister who also serves as the minister of global relations and cooperation on Sunday expressed her condolences to the government and people of Cuba over a plane crash in that country that killed more than 100 people.
More news: Top alpinist Nobukazu Kuriki dies in eighth attempt to conquer Everest
People react during a religious ceremony where victims of the Boeing 737 plane crash were remembered at a church in Havana, Cuba, May 20, 2018.
Sunday marked the second and last day of official mourning for the victims, which included 99 Cuban passengers, three foreign tourists - two Argentines and a Mexican - and two Sahrawi residents in Cuba.
Mexican civil aviation authorities arrived in Cuba Saturday to take part in the investigation and Yzquierdo said that since the plane was manufactured in the United States, the Cubans would give access to USA officials and experts.
The plane was reportedly leased to Cubana de Aviación from Mexican airline Aerolineas Damojh, also known as Global Air.
The heavily damaged and burnt plane is lying in a field of yuca-root plants.
More news: Abramovich faces wait for United Kingdom visa
Mexican authorities said Damojh had permits needed to lease its aircraft and had passed a November 2017 verification of its maintenance programme.
Cuban transportation minister informed that 110 people lost their lives in Cuban plane crash. It said that 64 percent of flights had taken off on time, up from 59 percent the previous year. The plane had 104 passengers and six crew members. Other officials have declined to confirm that.
A Mexican pilot who used to work for Global Air between 2005 and 2013, Marco Aurelio Hernandez, told the Mexican newspaper Milenio that he had previously flown the doomed plane. Damojh operates three planes, according to the Mexican government.
He said "many flight attendants, flight attendants and flight safety personnel" had refused to fly on certain Cubana planes over the years.
More news: Ex-Malaysian prime minister Najib Razak questioned over 1MDB corruption scandal