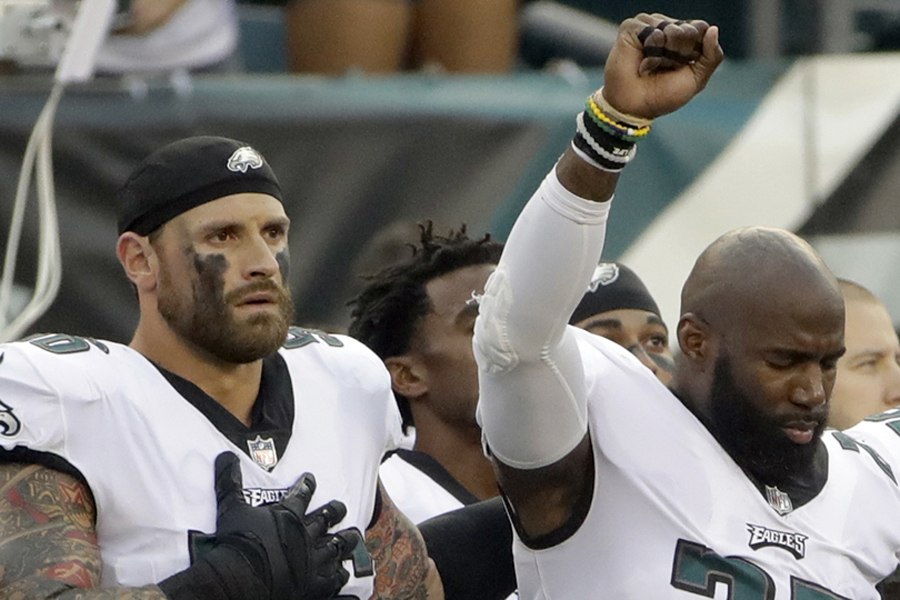 We have always stood for our players to have the opportunity to speak for themselves and be advocates of free speech and the democracy that we love and the freedoms that we love, and we're going to continue to do that.
That wasn't good enough for President Donald Trump.
But stay out of sight.
Initially, the former quarterback simply sat out the anthem, but former Green Beret Nate Boyer says he persuaded him to kneel. "It's also fear of a president turning his base against a corporation".
According to NFL.com, other players are weighing their options on whether they will be making "different on-field gestures" to highlight their cause.
More news: Harvey Weinstein Arrested, Charged With Rape and Sex Abuse
The NFL season previous year saw TV ratings decline, sponsors complain, and media attention focus on the players who sat, kneeled or raised fists in protest during the national anthem to complain about perceived injustices against black Americans.
Baltimore Ravens head coach John Harbough addressed the media Thursday and offered his thoughts on the NFL's new National Anthem policy.
The controversy surrounding silent protests in the NFL took a turn for the worse Wednesday when commissioner Roger Goodell announced that players would be fined if they choose to kneel during the national anthem. Or "you shouldn't be playing, you shouldn't be there. Maybe you shouldn't be in the country", Trump said.
Vice President Mike Pence called it "a win for the fans, a win for (the president), and a win for America". Shortly before announcing the revised rules, Goodell said the league and a players' coalition had finalized plans to spend almost $100 million on social justice issues targeted by the coalition. "It was never about disrespecting the flag or our military or anything in our regard".
"The players, who weren't planning on demonstrating during the national anthem this season, said they were looking for way to "skirt" the new NFL rules just to spite the NFL", writes Fox News. I think our leaders in the National Basketball Association understand that when an NFL player is kneeling, they were kneeling to protest police brutality, to protest racial inequality. "You talk about bullying, that's bullying", Burns said after voluntary team spring practices. It's a a representation of what we're about, which is diversity, peaceful protests, abilities, right to free speech.
More news: UFC, ESPN Partner for Five-Year, $1.5 Billion Rights Deal
"If the team says, 'this is what we're doing, ' and ownership [does too], you either deal with it or you're probably going to get cut", Foster told KDKA.
"History has taught us that both patriotism and protest are like water; if the force is strong enough it can not be suppressed", Smith wrote on Twitter. The NFL's teams are for-profit, and organizations that operate to make a profit often implement rules to ensure their employees or members act in the best interest of the organizations. "The whole team is out there and you come jogging out, like, "Oh, he's the guy that's protesting".
"Pence, who pulled a political stunt last season by walking out a game when players knelt and locked arms, responded to new policy announcement by tweeting "#Winning". Denver linebacker Brandon Marshall said. "They make those decisions".
"If someone has a problem with what they believe to be mistreatment I think they ought to go to the source-the flag is not the place to do their protesting". Leading player advocates, including Philadelphia Eagles safety Malcolm Jenkins and defensive end Chris Long, were critical of the policy shift.
"That's my opinion: I don't like it, " he said. And again saying that we would be coming to an amicable relationship in working towards the thing that we wanted to see and I felt personally in doing so you would see the demonstrations subside and this conversation subside as it pertains to the NFL.
More news: Man United set to pull out of £53m deal to sign Brazilian
Here is what eagles RT Lane Johnson texted me about the leagues new anthem policy "Ultimately it is taking the players voice away..."