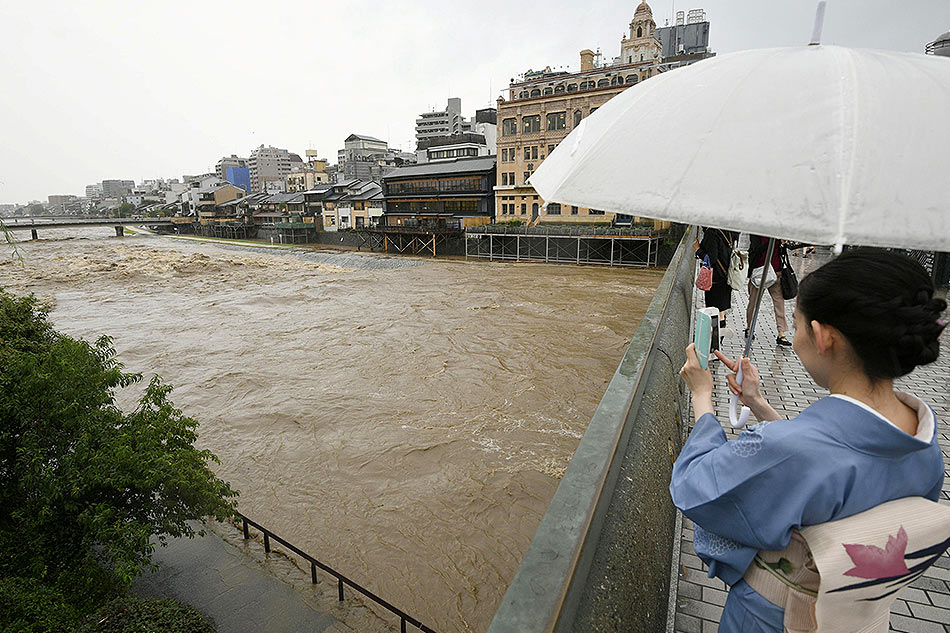 Almost 50,000 members of the military, police and firefighting services were taking part in searches for people trapped, wounded or dead as a result of the floods, reported the Japan Times.
Doznes of people were still missing and four in critical condition as torrential rain that has killed 20 people pounds western and central Japan, according to local officials.
Residential buildings are damaged by a landslide caused by heavy rains in Sakacho, Hiroshima prefecture, south western Japan.
The agency warned that Japan's Kinki region, which includes Kyoto, Hyogo and Osaka prefectures, could be particularly hard-hit by downpours, escalating the risk of floods, landslides, lightning and tornadoes.
In Ehime prefecture, a woman was found dead on the second floor of a home hit by a landslide, Kyodo said.
More news: Lions eat 'rhino poachers' on South African game reserve
Heavy rain on Japan has triggered floods and landslides, leaving at least three people dead and several missing.
In the prefectural capital of Hiroshima, a vehicle with a mother with her three children was swept away by flood waters in the city's Aki Ward.
By Saturday morning, more than 1.6 million people were ordered to evacuate their homes amid fears of flooding and further landslides, with a further 3.1 million advised to leave, the Fire and Disaster Management Agency said.
A woman in her 70s or 80s was reportedly found dead inside a drainage facility in central Japan, local police reported, with a number of people remaining unaccounted for, including a man in Kochi Prefecture whose milk deliver vehicle may have been washed away by a river.
In Kurashiki, Okayama Prefecture, city officials said it was hard to determine how many residents were actually missing.
More news: Pompeo in Pyongyang to Seek Concrete Nuclear Commitments
Kyoto, about 300km to the east of Hiroshima, has also been hit by downpours. Landslides occurred in several locations in Hiroshima Prefecture on the night of July 6, and there are reports that residents were buried. On Saturday, rescue workers transferred them to safety, by carrying them through swiftly flowing dark waters.
Agency official Minako Sakurai told reporters heavy rain was forecast to continue until Sunday in western and eastern Japan.
"I can't remember it ever raining this heavily".
At a meeting with ministers, Prime Minister Shinzo Abe directed them to "prioritise lifesaving and send rescue crews without delay", according to Chief Cabinet Secretary Yoshihide Suga.
The heavy rains caused a suspension of bullet train services between Shin-Osaka and Kokura in Fukuoka Prefecture on the Sanyo Shinkansen Line from the first runs on July 7.
More news: Musk sends engineers to help Thai boys trapped in cave