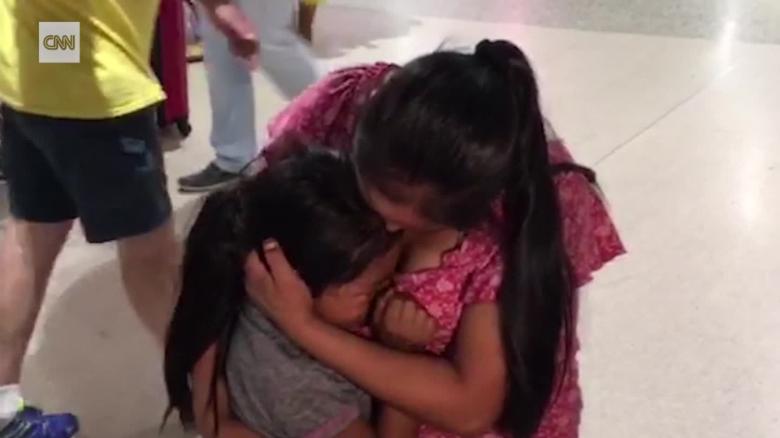 Health and Human Services Secretary Alex Azar said the government will meet court deadlines - with the help of DNA testing - to reunite children who were separated from their undocumented parents by immigration authorities.
The federal judge's order is the result of a lawsuit by the American Civil Liberties Union.
Azar refused to provide an exact figure for the total number of detained children who have been split from their parents, only saying that number is "under 3,000" minors and that they are in "excellent" care, with three meals plus snacks each day and time for exercise and entertainment.
How common is this scenario?
On Thursday's conference call, Azar said the number is now somewhere under 3,000, because the federal court order covers a wider class of separated children than his agency was originally counting, including hundreds more that were separated before Trump's "zero tolerance" policy officially went into effect. Of those, about 100 are aged under five and must be reunited with their families by Tuesday.
The Trump administration is now in the process of reuniting families, in part by using DNA tests to confirm whether they are related.
More news: Varane compares France's Mbappe to Brazil icon Ronaldo
Activists say that those children are too young to consent to a DNA test.
"Congress - FIX OUR INSANE IMMIGRATION LAWS NOW!" he tweeted.
The Department of Health and Human Services "knows the identity and location of every minor in the care of our grantees, and HHS is executing on our mission even with the constraints handed down by the courts", he said.
Azar said the audit was done to make sure the agency was in full compliance with a court order issued after he had given senators a lower number.
"Because of the compressed timeframe, the typical process of using documentations is not going to be completed within the timeframe allowed in this case by the court decision for the great majority of these children", Commander Jonathan White, the Assistant Secretary for Preparedness and Response at HHS, told reporters on Thursday.
President Donald Trump reversed course last month and signed an executive order meant to keep families together, but the administration is still facing scrutiny and questions over the families separated as a result of its widely-criticized "zero-tolerance" immigration policy.
More news: China vows to retaliate against U.S. tariffs in trade dispute escalation
Government personnel are now collecting cheek swab DNA samples from parents and children in order to verify family relationships, said Jonathan White, deputy director for children's programs at the Office of Refugee Resettlement, the HHS office that takes care of the children.
"We will comply with the artificial deadlines created by the court, deadlines that were not informed by the process needed to vet parents, including confirming parentage, as well as confirming the suitability of placement with that parent", said Azar.
A 1997 court ruling known as the Flores settlement has been interpreted to prevent detention of children for more than 20 days, which is one reason the administration gave for its policy of separating families when it chose to keep parents in custody.
Azar said that all of the parents committed a crime by crossing the U.S. -Mexico border and said a "surefire way" for them to have avoided the loss of their children would have been to remain in their home country and apply for a visa.
Azar said that order requires the government to "break families apart" after 20 days by releasing children from ICE custody.
Shortly before Azar spoke, President Donald Trump took to Twitter, showing no signs of backing away from "zero tolerance". That has included detaining parents separately from their children while they undergo brief criminal proceedings.
More news: Marcelo trains with Brazil ahead of Mexico last-16 clash