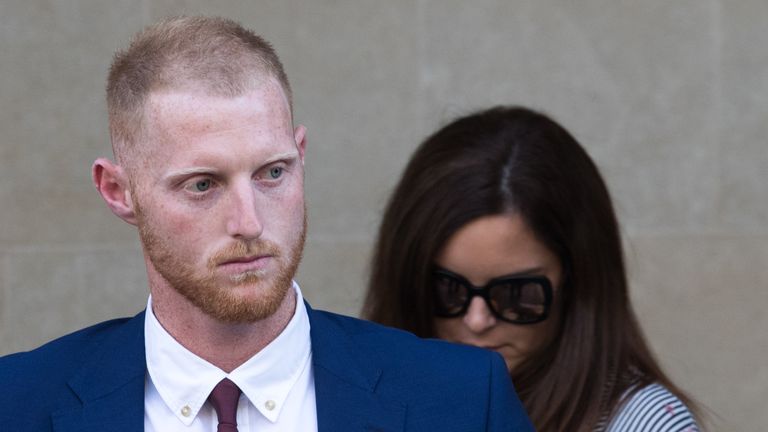 Ben Stokes, 27 was today accused of "trying to provoke the two gay men" by a bouncer who claimed he was sworn at in an "angry and spiteful tone" after he refused him entry to a nightclub.
Previously, a jury heard that the England all-rounder had knocked unconscious Ryan Hale, 27, and Ryan Ali, 28, during an alleged altercation in the early hours of Monday 25 September 2018.
Witness Mark Spure, an off-duty police community support officer (PCSO), said that after he left Mbargo nightclub he spotted "three to five" people involved in a "scuffle" on a nearby street.
PC Stacey Alway told the court that as she walked over to Mr. Stokes, she said: "A guy over there was covered in blood and I've been told you punched him".
He also denied flicking his lit cigarette end in the suggested manner at a gay man's head outside the club.
More news: Missing billions: Ex-Malaysian PM Najib Razak denies money laundering in court
The jury was also shown CCTV footage that, it was alleged by the prosecution, shows Hale running back towards the main group with a length of metal.
He identified Stokes to attending police officers, who arrested him.
She told the court the cricketer had been "squaring up" to a group of men at the side of the road as she approached them.
"While I was trying to stop the fighting, one struck the other with a clenched fist and he fell to the floor", Spure said.
"I felt the need to defend myself".
More news: Phil Thompson rips into new Everton signing Yerry Mina
"They were complete strangers".
"Both Kai and William thanked me for preventing them from being beaten up".
Hale cycled to hospital, where he was found to have bruising and a 1.5in superficial laceration to his forehead consistent with blunt trauma.
"I was anxious it might be two on to one and I knew one had had a bottle", Stokes told police.
"Amongst other things, Ryan Ali attacked Alex and Kai with a weapon".
More news: Indonesia minister says quake deaths pass 300
"I did not know Ryan Hale or Ryan Ali and I was forced to make a decision as to how far they would be prepared to go and what they might do if they got the upper hand". Stokes, of Stockton Road, Castle Eden, Durham; Ali, of Forest Road, Bristol; and Hale, of Burghill Road, Westbury-on-Trym, Bristol, each deny a joint charge of affray. "As I was on my own, when I separated two of them more people carried on behind me", the statement continued.