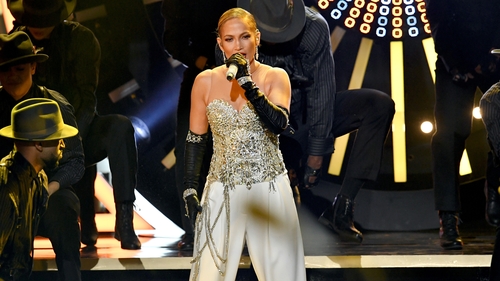 MTV has announced Jennifer Lopez will receive the Michael Jackson Video Vanguard Award at the upcoming VMAs, to be held on August 20th at Radio City Music Hall.
It will be the singer's first time performing live at the awards since 2001.
More news: Gran Turismo Sport Adds Microtransactions 1 Year Later
"I grew up on MTV and watching all my idols get this award". "Their videos inspired me to do the videos that I did", she said. The very first Vanguard awards were given to David Bowie, The Beatles, and Richard Lester in 1984 at the very first MTV VMAs.
She previously won Best Dance Video "Waiting for Tonight" in 2000, and Best Hip-Hop Video "I'm Real" in 2002.
More news: Trump calls Manafort prosecution 'a hoax,' says Sessions should stop Mueller investigation
She's up for "Best Collaboration" and "Best Latin Video" for her Cardi B tune "Dinero", which also features DJ Khaled.
Wearing an oversized, white button-down shirt; denim; high-heeled, over-the-knee boots with belt buckles, which made them look like jeans; a gold "Jennifer" necklace; and hoop earrings, Lopez said that "it's mind-blowing" to be receiving the award. I can't even believe it.
More news: Paris Jackson Denies Rehab Claims Following Demi Lovato's Overdose
Lopez will join P!nk, Britney Spears, Justin Timberlake, Madonna and Beyonce in the prestigious list of Vanguard winners.