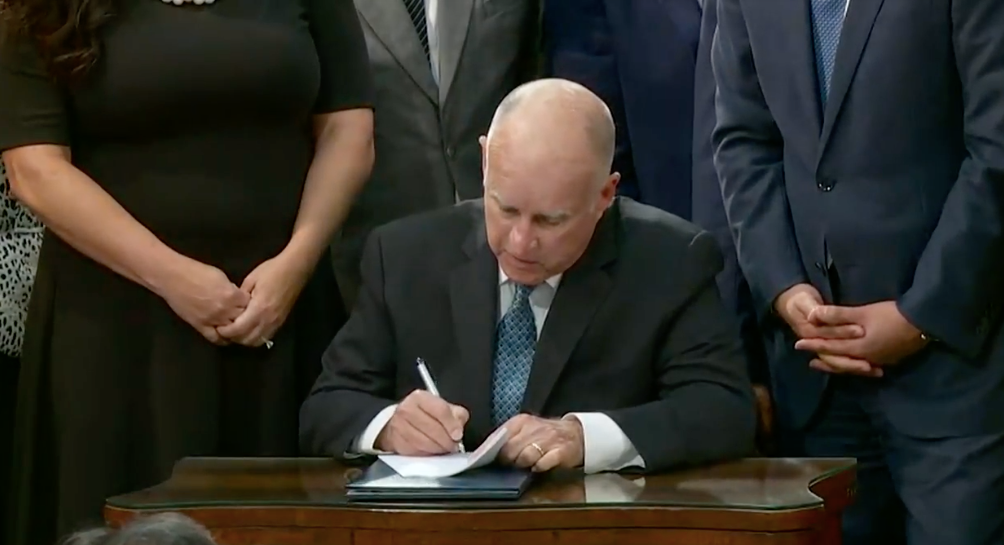 Jerry Brown signed Senate Bill 100.
"It will not be easy", Brown tweeted after signing Senate Bill 100 and a related executive order. "We will not let the federal government pillage public lands and destroy our treasured coast".
The signing came in the same week that San Francisco will host a Global Climate Action Summit on September 12-15.
The new bill was supported by Democrats who emphasized the damaging consequences of climate change, while opposed by state Republicans who highlighted the policy's financial costs, Bradford reported.
"If we do not change course by 2020, we risk missing the point where we can avoid runaway climate change", UN Secretary-General Antonio Guterres said in a speech Monday, warning of a "dark and risky future". It sets a new policy to make 100 percent of California's energy resources come from zero-carbon sources by 2045.
The announcement comes just days ahead of the Global Climate Action Summit.
More news: Carlos Ramos says he's 'fine' after U.S. Open
In addition to that target, the legislation establishes benchmarks, requiring energy service providers to generate 50 percent of power from renewable resources by 2026 and 60 percent by 2030.
Brown has often faced criticism that he's too cozy with the oil industry, including from environmental groups that plan to protest at the San Francisco summit.
While California has been a leader on reducing the amount of electricity it gets from burning fossil fuels, the state has struggled to be as forward-leaning in reducing the greenhouse gas pollution spewed from cars and trucks.
When the EPA released the rule last month, Acting EPA Administrator Andrew Wheeler said the Affordable Clean Energy Rule would "empower states to reduce greenhouse gas emissions and provide modern, reliable, and affordable energy".
A full copy of SB 100 can be downloaded from the California Legislature website.
To deal with significant problems - namely the need to keep a steady supply of electricity even at night when the sun isn't shining and during times when the wind isn't blowing, the previous laws defined renewable energy to include not only solar and wind, but also geothermal energy, biomass and hydroelectric power from small dams.
More news: Forza Horizon 4 is getting a James Bond day one auto pack
The measure was written by state Sen. Kevin de León, who sponsored the legislation.
The order directs several state agencies to set targets for artificially removing carbon dioxide from the air through a process known as "sequestration".
The state is pushing to rapidly expand adoption of electric vehicles and has created a "cap and trade" program to put a price on carbon emissions, creating incentives to reduce them.
Brown signed an executive order Monday announcing the goal to eliminate carbon emissions in the state within 27 years.
Information for this article was contributed by Jonathan J. Cooper of The Associated Press and by Mark Chediak and Romy Varghese of Bloomberg News.
More news: Major U.S. trade groups link up in anti-tariff coalition