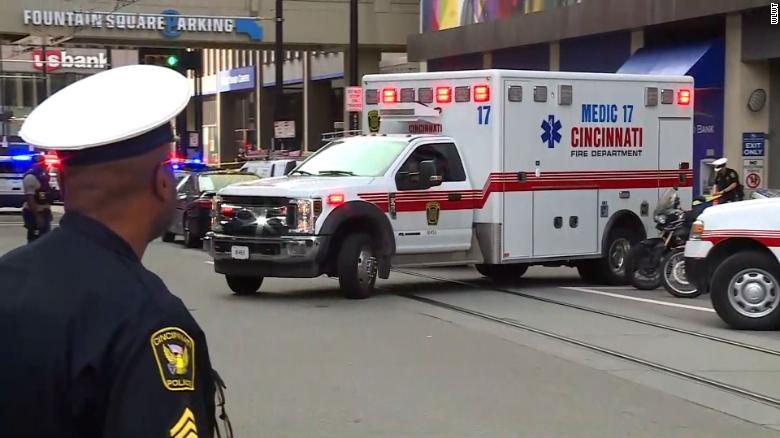 Police in Cincinnati have reported three people killed and a gunman dead in a shooting at a bank.
A gunman opened fire in a downtown Cincinnati office building Thursday, killing three people and wounding at least three more before he was fatally shot, police said.
"@CincyPD UPDATE: active shooter/officer involved shooting incident at Fifth Third Bank at 511 Walnut Street in lobby and loading dock".
A Cincinnati city council official said there had been "fatalities" with police warning of an "active shooter".
The shooter is 29-year-old Omar Perez. There were five additional victims, three of whom died.
More news: China explores merging China Unicom, China Telecom
The city's police chief, Eliot Isaac, said he could not confirm local media reports that the gunman was a disgruntled employee of the bank, and said he had no information that the victims were targeted. He noted that it "could have been much, much worse" if not for the quick police response to the shooting.
The first call about an active shooter at the Fifth Third Center came in at about 9:10 a.m., according to Cincinnati Police Chief Elliot Isaac. Passersby tried to similarly warn a woman not to enter the building, but she couldn't hear them over her headphones.
Streets around the building at the city's Fountain Square were closed as were sidewalks.
It happened at a 30-story building, home to the corporate headquarters for regional banker Fifth Third Bancorp and other businesses, including popular ice cream, pastry and sandwich shops. Radio traffic indicated other victims may have been transported to Good Samaritan Hospital.
Investigators have not identified a motive for the shootings, Issac said.
More news: Is Trump's rewrite of NAFTA hurting a partnership?
Lexington Mayor Jim Gray tweeted: "Concerning today's shootings, we offer our condolences to Mayor John Cranley, the victims and good citizens of Cincinnati".
Michael Richardson told Cincinnati.com that he saw the man shooting in the lobby, saying, "I looked behind me and saw the guy - he shot and then he shot again".
"This is clearly an act of grotesque violence to innocent people and it should frighten all of us", said Cincinnati Mayor John Cranley.
Newcomer was a superintendent at Gilbane Building Company and working Thursday at the Fifth Third Center, Gilbane spokesman Wes Cotter said. "After that I started running". "I can't put into words how grief-stricken we are", Cotter said. He said he saw people on stretchers not moving. "You know, these are things that we see happening across the country, and we all have to be vigilant and prepared to deal with these situations".
"She walked in the door and he shot her", Cain said.
More news: 'I'll take you out' Marco Rubio tells Alex Jones in hallway clash
The scene was secure not long after the department received the report at 9:10 a.m., according to police and the Cincinnati Enquirer.