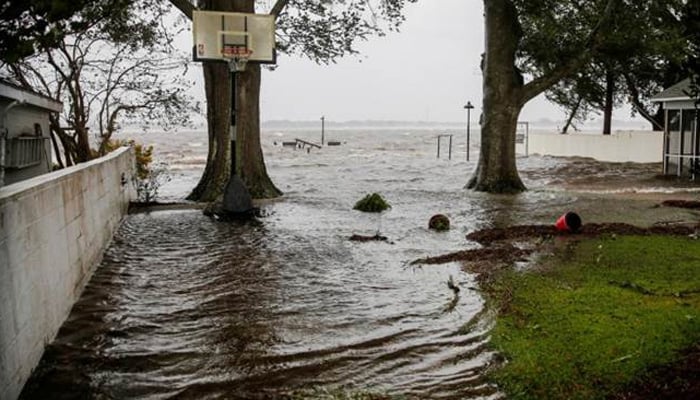 Florence slammed into the North Carolina coast as a large hurricane Friday, dumping almost three feet (1 meter) of rain and swelling the region's rivers.
In a separate briefing, Steve Goldstein of the National Oceanic and Atmospheric Administration (NOAA) said some areas have already received two feet of rain and could expect up to 20 inches more as the system moved "slowly, almost stationary" over eastern North Carolina.
Officials in New Bern said more than 100 people were rescued from floods and the downtown was under water by Friday afternoon. Though Florence did not arrive with winds as violent as once feared, forecasters got the storm surge and rainfall correct.
"The fact is this storm is deadly and we know we are days away from an ending", Gov Cooper said.
Four weather-related deaths have been reported in North Carolina.
Authorities in North Carolina said almost 814,000 customers were without power.
In Wilmington, North Carolina, a mother and her baby died when a tree landed on their house.
Authorities also confirmed a 78-year-old man's body was found outside by family after being electrocuted while trying to connect extension cords in the rain.
More news: Chelsea, Liverpool maintain lead over chasing Man City
Shaken after seeing waves crashing on the Neuse River just outside his house in New Bern, restaurant owner and hurricane veteran Tom Ballance wished he had evacuated.
"I feel like the dumbest human being who ever walked the face of the earth", he said.
The Miami-based center says the center of the eye moved ashore with top sustained winds of 90 miles per hour, making Florence a Category 1 hurricane in terms of wind intensity.
According to a Brookings Institution article written in the wake of Hurricane Harvey, which walloped southeast Texas in 2017, poor, minority families are more likely to live in low-lying neighborhoods like Hamlet that are already host to industrial facilities or environmental hazards - the same low-income neighborhoods that are far less likely to be inoculated from severe weather events.
The storm is still leaving a path of destruction across the two states, despite its top sustained wind speeds weakening to 72km/h.
There is really nowhere for the water to go.
Florence's forward movement during the day slowed to a near-standstill - sometimes it was going no faster than a human can walk - and that enabled it to pile on the rain.
More than 20,000 people were in 157 shelters in North Carolina, with almost 6,000 in SC shelters, officials said. Other communities got well over a foot (30 centimetres).
More news: Players Who Will be key For Manchester United Against Watford
North Carolina Gov Roy Cooper called Florence an "uninvited brute" that could wipe out entire communities as it grinds its way across land.
Charlotte and Asheville in North Carolina, and Roanoke, Virginia, could also be in for heavy rains as Florence plods inland. "I've never seen the water as high as it came".
Authorities warned, too, of the threat of mudslides and the risk of an environmental disaster from floodwaters washing over industrial waste sites and hog farms.
Florence was seen as a major test for the Federal Emergency Management Agency, which was heavily criticized as slow and unprepared previous year for Hurricane Maria in Puerto Rico, where the death toll was put at almost 3,000.
Florence has already set a North Carolina record for rainfall totals, exceeding that of Hurricane Floyd, which struck in 1999 and caused 56 deaths.
"This is a hurricane event followed by a flood event", said South Carolina Governor Henry McMaster. Parts of SC could see rainfall totals of up to 15 inches. The few cars out on a main street in Wilmington had to swerve to avoid fallen trees, metal debris and power lines.
The National Weather Service reported wind gusts of up to 21 miles per hour on September 14 morning in Columbia. Nationwide, airlines cancelled more than 2,400 flights through Sunday.
More news: Two Russians accused by United Kingdom in spy poisoning to give interview