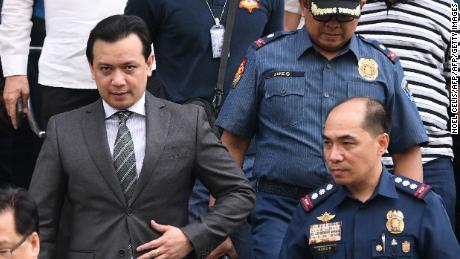 He then posted 200,000-peso bail before the court, which was approved. The senator also backed the preliminary investigation by the global criminal court into possible crimes against humanity being committed by Duterte in his war on drugs.
Makati RTC Judge Elmo Alameda of Branch 150 said he granted the Department of Justice's request for the issuance of a hold departure order and warrant of arrest against Trillanes whose amnesty was revoked by President Rodrigo Duterte via Proclamation 572. The amnesty had been granted by a previous president for the senator's role in a failed military.
Makati Regional Trial Court Branch 150 earlier Tuesday granted the Department of Justice's motion to issue an arrest warrant against Trillanes.
The arrest of Senator Antonio Trillanes is the latest round in his sparring with Duterte, whom he accuses of hiding wealth and being responsible for alleged executions of thousands of suspected criminals and drug dealers, which Duterte denies. "Darkness and evil prevailed in our country".
More news: Childish Gambino Reportedly Postpones This Is America Tour After Injury
Sen. Antonio Trillanes IV walked out of the Senate, where he has sought refuge for weeks, and was taken by police to their headquarters in Makati city, where his fingerprints and mugshot were taken.
Asked if he intends to bring a case before the Supreme Court, Trillanes replied: "I dont know yet, but that is an option", insisting that he already showed proof that he filed for amnesty.
"This is a debacle and a defeat of democracy", Trillanes, a former navy officer and two-time mutineer, told reporters as he was led from the senate by police this afternoon.
The president has denied the allegations.
More news: THE CRIMES OF GRINDELWALD Trailer Reveals A Suprise Character — FANTASTIC BEASTS
Legal experts and the Integrated Bar of the Philippines, the country's largest lawyers' group, have expressed alarm over the legal moves against Mr Trillanes for offences that were cancelled by the 2011 amnesty.
The lawyers' group said the move against Trillanes "runs roughshod over the constitutional guarantee against double jeopardy", or holding a person to answer twice for the same offense.
Duterte has also accused Trillanes, without offering evidence, of plotting with other opposition politicians, including the Liberal Party and leftist groups, to oust him.
The arrest of Trillanes follows the incarceration a year ago of another vocal Duterte critic, Senator Leila de Lima, who is now in jail on drugs charges she vigorously denies and which human rights organisations have accused of being trumped up. He was accompanied by fellow opposition senators, who charged that Duterte was engaged in a crusade to persecute his political opponents.
More news: Jack Grealish signs new Aston Villa contract