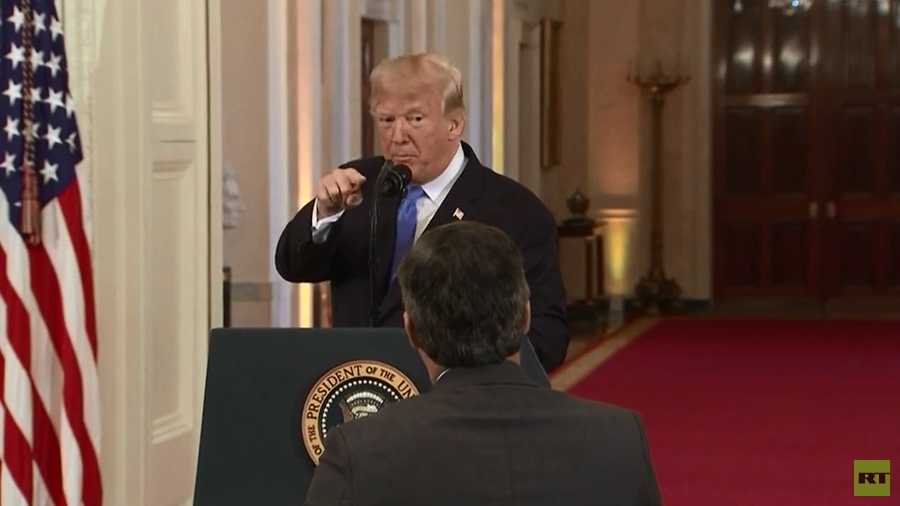 "I want to challenge you on one of the statements that you made in the tail end of the campaign in the midterms", Acosta told Trump at a press conference following the midterm elections.
Acosta later asked about the Russian investigation, which Trump then called a "hoax".
"They're hundreds of miles away, that's not an invasion", Acosta said. "It was true. Do you think they were actors?"
"You are a rude awful person", he added.
President Trump answers a question from Jim Acosta of CNN after giving remarks a day after the midterm elections on Wednesday in the East Room of the White House.
More news: Accused Mexican drug lord 'El Chapo' faces USA trial
"Because I consider it an invasion", Trump replied.
"Here we go", Trump said. You shouldn't be working for CNN.
When Trump moved on to NBC's Peter Alexander, the reporter defended Acosta, calling the president's description of him "unfair".
Acosta attempted to ask another question, and a White House aide tried grabbing the microphone out of his hand. And the way you treat other people is disgusting.
"When you report fake news, which CNN does a lot, you are the enemy of the people", Trump told Acosta.
More news: Ilhan Omar Defeats Jennifer Zielinski In Minnesota's 5th District Race
Acosta asked Trump about his rhetoric concerning the illegal alien horde that's approaching or southern border. The way you treat Sarah Huckabee is disgusting, and the way you treat other people are frightful.
Acosta then stood again to push back against Trump, referencing the pipe bombs that were recently sent to CNN's offices. The way you treat Sarah Huckabee is frightful.
"I'm not a big fan of yours either, to be honest with you", Mr. Trump told the NBC reporter.
"Very hostile. Such a hostile media". You and I have a difference of opinion.
"I don't believe that", Trump continued, adding, "Why do I have my highest poll numbers with African-Americans?".
More news: Spice Girls reunite, minus Victoria Beckham, Lifestyle News & Top Stories