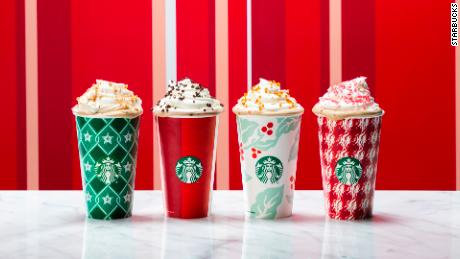 It's nice to see that Starbucks is finally bringing back a little bit of Christmas spirit to their holiday cups. But this year, one of the cups is adorned with mistletoe! That's because Starbucks is getting into full festive mode with the return of their holiday drink lineup, along with new cups, and a brand new Northwest-y latte, and it all starts November 2.
She said customers "loved the tradition of Christmas".
With Halloween over, the holiday season begins to get underway, and one of the telltale signs that Christmas is coming is Starbucks' unveiling of their holiday cup selection. Customers can get 50 cents off their holiday drink if they buy one after 2 p.m. between this Saturday and January 7, USA Today reports.
More news: #SEMA: Chevrolet Terrorizes Tesla With 700HP eCOPO Camaro Concept
'When you come into Starbucks, there's a festive vibe, ' said Kristy Cameron from the Starbucks Creative Studio.
That's like an every-day Starbucks holiday happy hour, sort of.
What's going on: Starbucks unveiled its latest lineup of holiday cups Thursday.
More news: United States government charges two Chinese spies over jet engine blueprint theft
Inspired by decades of the company's Christmas blend packaging, Starbucks drew from past design elements, including a star, a branch of coffee cherries and a flame, and added in doses of vintage colors and patterns, such as mint green and argyle.
Also making a comeback are the six holiday beverages, including Peppermint Mocha, Toasted White Chocolate Mocha, Caramel Brulee Latte, Chestnut Praline Latte, Gingerbread Latte and Egg Nog Latte. "We hope they feel the holiday magic that only Starbucks can create during this special time of year".
You may even walk out with a gift for yourself: Customers who order a holiday beverage on November 2 will receive a free, limited-edition reusable red cup (while supplies last - so get there early).
More news: United States weeks away from responding to Khashoggi murder: Pompeo