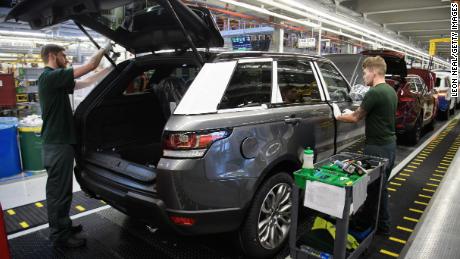 Vehicle giant Jaguar Land Rover will announce up to 5,000 job cuts later on Thursday, according to reports.
JLR builds a higher proportion of its cars in Britain than any other major or medium-sized carmaker and has spent millions preparing for Brexit, in case of tariffs or customs checks.
Jaguar Land Rover said earlier that its retail sales fell 4.6 per cent in 2018, citing uncertainty surrounding Brexit, the trade-war driven Chinese slump that lowered its sales in the country by 22 per cent, and consumer misgivings around the diesel engines that power much of its Land Rover lineup.
But back in April the manufacturer announced plans to cut 1,000 manufacturing contractor jobs amid falling demand amid anti-diesel sentiment and the pressures of Brexit.
The turnaround plan hinges around 2.5 billion pound cash savings, which will be materialised by cutting costs and improving cash flows.
A downturn in Chinese sales, a fall in diesel sales and concerns about the competitiveness of the United Kingdom after Brexit are the reasons for the cuts, the BBC has said.
More news: Marion County hospitals to temporarily restrict visitors due to high flu activity
The company confirmed today its Wolverhampton engine factory will begin producing electric drive units (EDUs) from later this year.
The job cuts are a part of the GBP 2.5 billion cost reduction and cashflow improvement efforts that the company is now undertaking, for over 18 months period.
The British automaker lost £90 million ($160 million) during the third quarter of 2018 thanks primarily to a big sales dip in China, Brexit-related woes, and reduced demand for diesel-powered vehicles and traditional sedan models.
"Jaguar Land Rover workers have had to endure a great deal of uncertainty over recent months as they continue to work hard to ensure the carmaker remains a global leader".
Will you be affected by the job cuts?
In July last year, the company said it needed more certainty around Brexit in order to continue investing in its United Kingdom operations and warned that a "no-deal" Brexit would cost the company more than £1.2bn in profit each year.
More news: South African teacher suspended over seating students by race
In June, the company said it would move production of the Discovery sport utility vehicle to Slovakia from Birmingham, England, to make room for future electric cars.
"Given the difficulties that they're going through.to add further costs and further disruption from a no-deal Brexit, it's clear why they've been so clear that this would be against their interests", said business minister Greg Clark.
If, as expected, the United Kingdom bears the brunt, or the entirety, of JLR's global cost-cutting, JLR may well say it tried to warn us.
China has been the company's biggest and most profitable market.
"It's the single biggest challenge", JLR's finance chief, Ken Gregor, told analysts on a financial results call in November.
In China it has hired 4,000 workers since 2014.
More news: Phillies rumors: Expect Manny Machado decision in the next week
Jaguar employs 44,000 workers in the United Kingdom at sites in Halewood on Merseyside and Solihull, Castle Bromwich and Wolverhampton in the West Midlands.