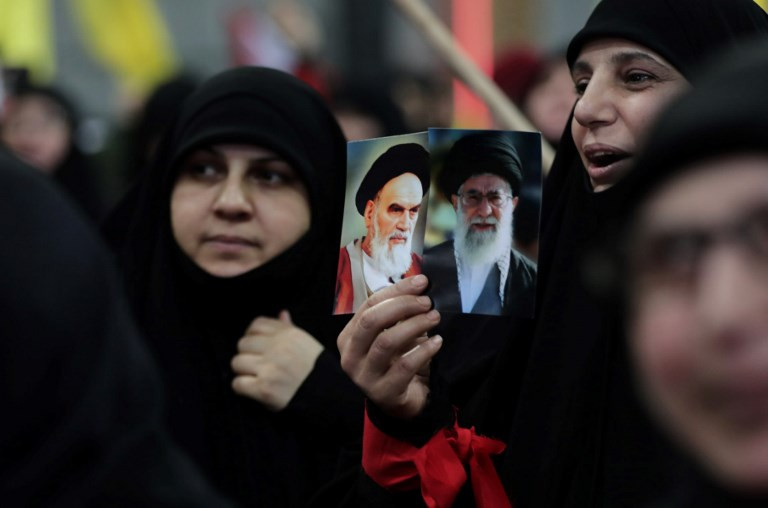 Israel and Iran traded threats of mutual destruction on Monday as the Islamic Republic celebrated the 40th anniversary of its revolution.
Rouhani also vowed Iran would defeat US sanctions, reimposed after President Donald Trump withdrew from Tehran's nuclear accord with world powers a year ago.
The large turnout in state-sponsored rallies came as Iranians face mounting economic hardships following the return of U.S. sanctions previous year.
An Iranian man marches with a portrait of the country's Supreme Leader Ali Khamenei (L) alongside a woman holding up another of Islamic Revolution founder Ayatollah Ruhollah Khomeini (R) during a ceremony celebrating the 40th anniversary of Islamic Revolution in the capital Tehran on February 11, 2019.
Life-size replicas of Iranian-made cruise and ballistic missiles stood in a statement of defiance after the United States a year ago reimposed sanctions following its withdrawal from a deal on Tehran´s nuclear programme.
More news: Sarri's job on line as Man City hit humiliated Chelsea for six
Iranian officials said the move amounted to "economic warfare".
This year's anniversary come as tensions are rising with the USA and Iran is grappling with re-imposed US sanctions.
President Hassan Rohani blasted a USA "conspiracy" against Iran as the country marked the 40th anniversary of the 1979 Islamic revolution that ended the monarchy and heralded the start of four decades of clerical rule.
But he remained defiant on Monday as Iranians recalled the end of a monarch who catered to the rich.
In January, Mr Rouhani said Iran was facing its worst economic crisis since the Shah was toppled.
More news: Thai poll body to rule on princess' PM bid after king's rebuke
Netanyahu's comments came in response to a threat made by Yadollah Javani, the Guard's deputy head for political affairs, who said at a rally celebrating the 40th anniversary of the Islamic revolution that the U.S. "does not have the courage to shoot a single bullet at us despite all its defensive and military assets".
"The United States does not have the courage to shoot a single bullet at us despite all its defensive and military assets. But if they attack us, we will raze Tel Aviv and Haifa to the ground", Javani told the state news agency IRNA. "I am not ignoring the threats of the Iranian regime, but nor I am impressed by them", he said.
The Iranian Government said the event saw "epic attendance" across the nation, with reports crowds numbered in the hundreds of thousands. "They should take this into account".
Washington and its Arab allies have viewed Iran with great suspicion since the Islamic Revolution, fearing Khomeini's radical ideology would inspire militants across the Middle East.
A senior commander in Iran's Revolutionary Guards said Tehran would not withdraw forces from the region, dismissing US calls for Iranian clout to be curbed.
More news: Marcus Morris calls out Celtics teammates after embarrassing loss to Clippers